Globe MyBusiness: 10 Reasons to Start Your Online Business!
10 reasons to start your own business
Patricia Lourdes Viray
(The Philippine Star

MANILA, Philippines - Starting up a business could be challenging because there would be obstacles along the way. Among the challenges of starting up your own business would be access to lending banks, increases in tax and interest rates, increasing costs, skills shortages, economic volatility and others.
"To overcome obstacles business or personal, you must master these areas: embrace self-awareness, use time to your advantage, commit to focused discipline, engage your own creativity," said Johanson Dy Cheng, founder of EntrepNegosyo.

Having his own business himself, Cheng shares his insights on the advantages of being your own boss rather than being an employee.
1.       You control your own destiny
You are in charge of all the decisions being made in your company. The daily operations of the business are under your hands, "This leads to creating a culture, a brand and an organization," said Cheng. You get to be your own boss and get credit for what you do.
2.       You can find your own work/life balance
Being in-charge of the company's day-to-day operations, you get a hold of your own time. You get to choose where and when to work. You can opt to work from home at the most convenient time for you.
"Your time is yours," Cheng said.
3.       You choose the people who you work with.
"Surround yourself with positive people who give you the confidence and optimism you need to keep moving forward. Weed out the people that put out negative vibes. The smaller your organization, the larger choice you have about who you work with," said Cheng.
Working for someone else would not give you an opportunity to choose who to work with as opposed to having your own business. Rather than working with strangers, being an entrepreneur would give you a chance to even work with your friends or family.
4.       You take on the risk
There is no certainty that the business would succeed once you start one. Every decision you make would have an effect on the business. It's either you lose or gain rewards once you take the risk of starting a business.
"Like every other great game, the more you play, the better you get. You learn to recognize good opportunities from bad ones. You learn how to look like you are committed to new products, without actually financially committing to it until you have feedback and orders from your customers.
"You also learn to create exit strategies for bad situations and how to maximize the good ones. The most fun is to work on a project for several years with your team, overcoming all of the obstacles, and then millions of people enjoy it around the world," shares Cheng.
5.       You can challenge yourself
Working in an office would mean having a daily routine since you have the same tasks every day. Being an entrepreneur would give you the chance to learn something new every day and improve yourself on you chosen career. Every day is an opportunity to challenge yourself.
6.       You can follow your passion
By starting an online Philippine Business Community for Filipino entrepreneurs, Cheng was able to pursue his passion for web and industrial design. Nowadays, it is a rare opportunity work at something that you are passionate for.
7.       You can get things done
Cheng cites social media for being a medium to accomplish tasks faster. Being in the online business, speed is important so as to get an advantage over competitors.
8.       You can connect with your clients as you are the boss.
You get to interact with your clients first-hand as you are in charge of business transactions. For Cheng's case, he gets to connect with clients through EntrepNegosyo.com.
9.       You can give back to your community
Cheng is an active member of the Junior Chamber International Manila, an organization that hones leadership skills of young men. They have projects committed to serve the community as a whole.
10.   You feel pride in building something of your own
You get to do something that you're good at and you get recognized for it. Cheng is proud of being able to put up his own e-commerce website, Emarket.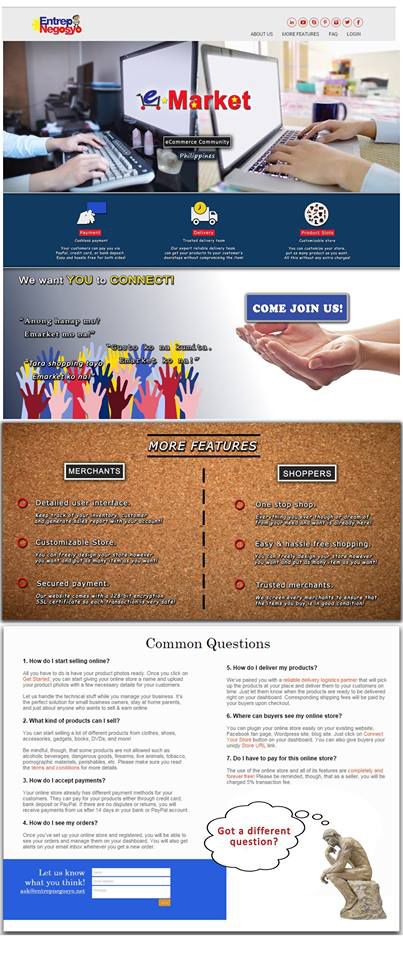 When asked about his advice to those who tried to start a business and failed, Cheng quoted business tycoon Henry Sy, "There is no such thing as overnight success or easy money. If you fail, do not be discouraged; try again. When you do well, do not change your ways. Success is not just good luck: it is a combination of hard work, good credit standing, opportunity, readiness and timing. Success will not last if you do not take care of it."
Cheng is the founder of EntrepNegosyo/Emarket, a website for the Philippine Business Community which provides business news, bulletin, research and technology that promotes entrepreneurship literacy.
---